Children's advocacy her 'life's work'
By Caroline Wright

---
She's flown her plane over the Amazon, crept quietly through Cuban airspace and dipped her wings at an Icelandic sunrise. These days, however, Karole Jensen of Myrtle Beach finds the ultimate satisfaction in her advocacy work for children.
Born in Abbeville, SC in 1945, Jensen spent much of her early childhood with her grandparents. When Jensen was five, her mother came back into her life with a new husband who soon joined the U.S. Army.
"Between the fourth grade and my senior year, I lived at 23 addresses and attended 21 schools," she says. "It taught me how to survive. Often we'd go from a very cold climate to a place like Hawaii, and not have anything but a handful of clothes for months because our baggage was always a move behind."
Jensen returned to South Carolina in time to graduate from high school. She began working immediately. "If I didn't have two jobs, I didn't know what to do with my time," she laughs. She married at 18 and had two children with her first husband. Somehow, she found the time to obtain a realtor's license and began buying and selling properties. Her skill as a realtor would later help bankroll her philanthropic work.
Seeds of Advocacy
The seeds for Jensen's advocacy were planted in the early 70s, when she joined the League of Women Voters in Columbia. Each year, the League identified ten community issues for study. "When I joined, they had openings on only two committees. One had to do with Family Court – to study it, make a report and recommendations." Though pregnant with her son, and working full-time, Jensen jumped aboard.
Rebuffed initially, Jensen's committee obtained a small national grant for the study. They found cases in terrible disarray. "There was a little kid who had been dead for three years. Nobody knew it. Nobody knew where the kid was buried. And DSS was still making foster care support." Jensen asked questions, spoke to civic clubs and heard about other mishandled cases. "I knew just enough to track the information down."
Filled with hope and naive, the group decided to work on changing the Child Protection Act. Simultaneously, Jensen began studying South Carolina's antiquated rape laws. "They referred to things like 'abuse of a woman-child'," she recalls. Three years later, the new Child Protective Act and a heavily revised Criminal Sexual Conduct Code were ready for filing. Both were passed that year. Jensen was named Citizen of the Year in 1977 by the state legislature for her work on the laws.
Later that year, Jensen moved to Myrtle Beach and married again. In 1978, Jensen founded her advocacy group, Wings For Children, to help abused, neglected, and missing children. When her second husband died, tragically and unexpectedly, Jensen and her stepsons approached Columbia attorney Fayrell Furr seeking resolution for his affairs. Years later, they married; Furr relocated his practice to the Grand Strand.
Taking Flight
In 1980, Jensen hitched a ride to Florida with a friend who had a twin-engine plane. "I was always on the go, constantly moving. I thought, 'Wow! If I could fly, I could go further, faster, when and how I want to.'" A year later, she heard about an airplane for sale in Conway, an old Cessna 172.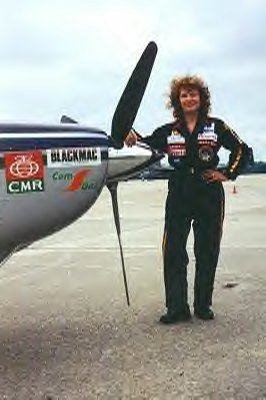 "I bought it. Had never sat in it, wouldn't even know how to crank it. I hired some people in Conway to teach me to fly."
The need for speed prompted Jensen to purchase her next aircraft. She bought a "real plane" in 1993 – a Mooney 231 with retractable gear and updated avionics. On a lark, she tried her hand at air racing. The Great Southern Air Race over Florida and the Bahamas was her first event. She paid no attention to the seriousness of the other competitors – until the beginning of the race. "When we took off, this kamikaze thing took over. I turned into some kind of fiend!" she laughs.
Jensen placed third in the event, a heady experience. Three other races followed, including the 1997 World Air Games, a 13-day odyssey which began in Reykjavik, Iceland and ended in Turkey. She didn't place, but she certainly had a grand adventure.
"I would love to do it again, but my family…" she pauses. "As much as it means to me, I probably won't." Jensen stays busy with Wings for Children, and affiliate program Angel Flight, which provides free air transportation to people in financial and medical need. Angel Flight's privately owned planes are flown by volunteer pilots, qualified by Jensen herself. No pilot has ever received a salary or been reimbursed for expenses.
Though Jensen founded Wings for Children almost five years before becoming a pilot, flight was on her mind. "Flight and freedom from abuse and whatever torment children are in," she explains. "I can't describe how fulfilling it is, to go after a case from a standpoint of total independence, on behalf of a child. I have no ax to grind. It's really my life's work."
Jensen encounters more darkness in a week than most people see in a lifetime, but she is driven by the helplessness of children. "You just keep getting more educated, more committed. And you get outraged. If I ever made a conscious decision, it was that I turn my outrage into positive outcome."
Only two other organizations in the country work on child abuse cases independently of any public or private system. The work can be dangerous, but Jensen is never frightened. "I don't want to sound righteous, but I know I'm doing the right thing, and I feel a certain sense of protection. If I was afraid, I'd never act on things. When I act on what my gut tells me, it turns out right."
Caroline Wright is a freelance writer. She can be reached via e-mail at c@wrightforyou.comor by phone at 347-5634.
November 2, 2000